We have half acre to five+ acre parcels, homes and cabins. Owner financing available on some.

For an appointment please call Roberts Realty or E-mail us or stop by our office so we may show you around our well keep secret community. We are open 6 days a week, Monday through Saturday and Sunday with appointment.

Deer roam throughout Timberon!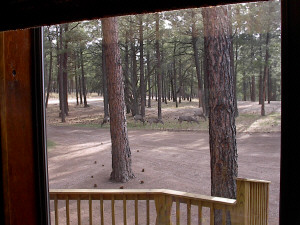 Besides deer, you are likely to see wild turkeys, foxes, elks, raccoons, bob cats, mountain lions or maybe even a bear, if you are one of the lucky ones!
OFFICE NUMBER: 575-987-2440
FAX NUMBER: 575-987-2440, call first
OFFICE ADDRESS: 1559 C Sacramento Dr.
MAILING ADDRESS: P.O. Box 1
Timberon, NM 88350
WEB SITE: www.timberonnm.com

E-MAIL
mailto:
timberon@dellcity.com
HOPE TO MEET YOU SOON!
Ruby F. Roberts, New Mexico Real Estate Qualifying Broker
Associate Brokers:
Don A. Roberts
Michelle Lowe

Copyright © 2002 by Roberts Realty